Flourishing. Christian. Grandparenting.
You can flourish in this season of your life as you build great relationships in your family, and as you help your grandkids come to love and follow Jesus.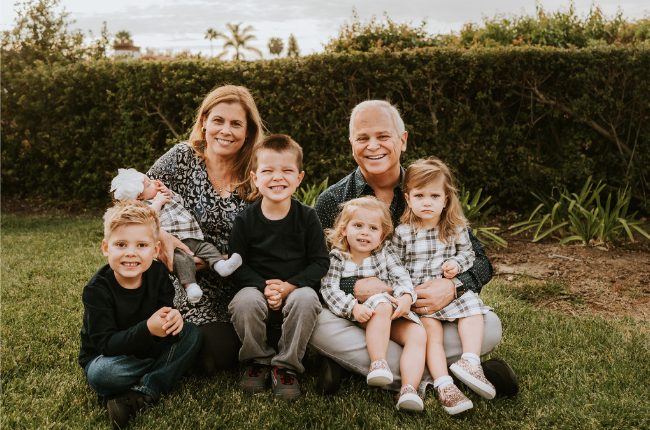 Hi, I'm Lori!
Just like you, I love all the people in my life.
I'm married, a mom of two grown-up and married kids, and a grandmother to 6 little people. I'm a pastor's wife, the co-founder of New Song Church in Oceanside, California, long-time children's pastor, the current leader of the grandparenting ministry and the mental wellness initiative at our church, and executive editor of a website for pastors and church leaders. I love to start things that help people.
The day I became a grandmother, the earth shifted. Did you feel it when you became a grandparent, too?
I wanted to help our kids thrive as parents (maybe at first just to survive). I wanted that little boy I was holding to grow up to be an amazing man who makes a difference in his generation. I wanted to see him love and follow Jesus with his whole heart.
The Challenges we Face

It didn't take long to see that there are challenges to our perfect grandparenting dreams.
Our relationships with our kids can be strained. We don't see the grandchildren as much as we'd like. Differences in morals, faith, and politics can divide us. Family trials and tragedies take their toll.
Even though we face obstacles to our intergenerational connections, and to helping our grandchildren know Jesus, we feel a mighty calling to pour into our grandkids' lives so they are able to become all that Jesus wants for them.
Our Calling
I want to help you fulfill your mission to build a spiritual legacy of faith in your family and the generations that follow. I'll help you learn principles, build skills, and find resources that will equip you to be a better spiritual leader in your family.
We all want our family relationships to be close. We want to feel connected as we enjoy and help our kids and grandkids. I will help you see your blind spots, get relational wisdom, and learn principles for strong three-generation families.
And while you're at it, I want you to flourish.
I think the last two or three decades of our lives can be the best. We want to walk with Jesus, feel free to be who we are in Christ, and love and support the people around us.
I hope you'll join our community, take advantage of our resources, and see fruit in the lives of your kids and grandkids.
We can be Christian grandparents who love, influence, and flourish.
Grandparenting Starter Guide
Learn how to connect, have influence, and enjoy your grandchildren more than ever.
Would you like to experience closer relationships with your kids and grandkids? This grandparenting starter guide will give you three simple steps to develop great relationships with your grandchildren. Simply opt in below.