Do you struggle to find the balance of seeing your grandkids often enough and helping them not too much? It's often too much or too little. This article will help you figure out how to both enjoy and help your kids and grandkids just right.
I met a woman at a grandparenting conference who was looking forward to a week of visiting her kids and grandkids after the conference. She mentioned that her sister lives near her own grandkids and has them with her all the time… so much that she is often stressed and tired.
I imagined that the tired sister wonders how her vacation sister tolerates seeing her grandkids so rarely. The vacation sister wonders why her tired sister tolerates taking care of the grandkids so much.
That's the problem for all of us, isn't it? We see them too much or too little. We enjoy them, but not enough. We help them, but then it gets to be too much.
We struggle with the mix of enjoying and helping our kids and grandkids. Enjoying and helping are core motivations of grandparents and finding the perfect balance takes effort.
Let's look into grandparents' core motivations, see how they mix together, decide what you'd like your relationship with your kids to look like, make a plan to get there, and flourish in your grandparenting.
How to Balance Enjoying and Helping your Kids and Grandkids
Two core motivations of grandparents are enjoying and helping.
Motivations are the things that inspire us to take action, to persist, and to pursue improvement. Grandparents are motivated by two core experiences.
Grandparents are motivated to ENJOY their family.
The first motivation is our desire to enjoy our children and grandchildren.We waded through raising our kids and they've rewarded us with grandchildren. It's our time now. It's payback time.
It's time to enjoy our family. We enjoy the sweetness of the new babies, the cuteness of the preschoolers, the smartness of the early elementary, and the thinking of older kids.
We enjoy them whether we see them frequently, or not. We enjoy them on holidays and vacations. We enjoy the phone conversations. We enjoy the theme parks and outings.
Solomon agreed with the value of enjoyment. He said so in Ecclesiastes 2:24-25.
There is nothing better for a person than to eat, drink, and enjoy his work. I have seen that even this is from God's hand, because who can eat and who can enjoy life apart from him?
It's Biblical to want to enjoy our families and I hope you do.
Grandparents are motivated to HELP their family.
Another core motivation is to help our children and grandchildren. We want the best for them. We always have. We still do.
The ways we help our kids and grandkids is different for each family and changes over time.
One way I help my kids these days is by cooking in line with their dietary priorities. No dairy. No gluten. I help them by being supportive and flexible and discovering new family favorites.
We can help out financially by paying for swimming lessons or a soccer season. Some parents help by giving their kids date money.
We can help by spending time with the grandchildren so the parents can have a date, or work unhindered, or play a Saturday morning ultimate frisbee game with their friends.
We help our kids and grandkids spiritually by praying for them and talking about God with them.
When we understand how the two core grandparent motivations of enjoying and helping work together in our family, we can make adjustments to achieve the family relationships we desire.
How Enjoying and Helping your Family Work Together
The CORE MOTIVATIONS GRID for Grandparents shows how the balance between enjoying and helping leads to four different grandparenting situations:
Distant
Serving
Vacation, visits and holidays
Doing life together
The Core Motivations Grid for Grandparents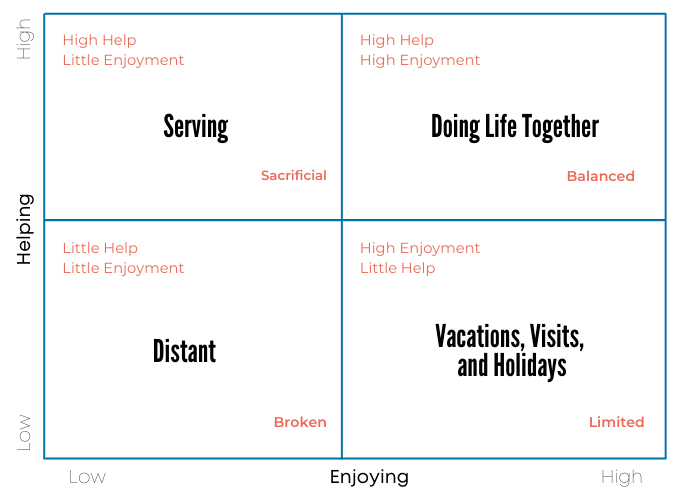 Let's look more closely at each quadrant.
Distant: Little Help/Little Enjoyment – Broken
If you give little help and get little enjoyment, you are probably distant from your kids and grandkids. Your relationships may be broken a little or a lot.
Vacations, Visits, and Holidays: Little Help/High Enjoyment – Limited
If you have high enjoyment and give little help, you probably live in different parts of the country and you see your family on trips, family vacations and holidays. You generally enjoy the little time that you have together. Your relationships may be more limited than you would like.
Serving: High Help/Little Enjoyment – Sacrificial
If you give high help, but don't always feel enjoyment, you might be living in the same home, or perhaps raising your grandkids without their parents. You may be providing childcare while they work.
You enjoy the grandkids, but enjoyment can be overshadowed by the work and the discipline and stresses. It can tip into feeling sacrificial.
Doing Life Together: High Help/High Enjoyment – Balanced
If you have high enjoyment and high help—whatever that looks like in your family—you are doing life together. You may help your kids with childcare, meals, or activities. But you also enjoy being with the grandkids almost all the time. Your relationships are probably balanced.
Most grandparents would like to be in the Doing Life Together quadrant, but that might not feel possible because of physical distance or strained relationships.
Have hope, beloved grandparent, it is possible to Do Life Together with your kids and grandkids.
4 Steps to Move Toward Doing Life Together
Strategic planning says that people won't move from their current reality to a preferable future until they see that the wooden platform they're standing on in the middle of the lake is on fire.
What they're saying is that it's more motivating to move toward better family relationships when you recognize that where you're standing isn't working for you anymore.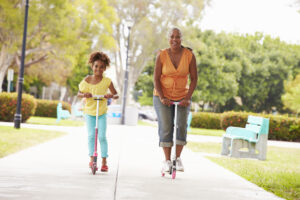 1. Assess where you stand in enjoying and helping your family.
Consider how often you enjoy your children and grandchildren. Then look at the ways you help your kids and grandkids.
Which of the four quadrants in the Core Motivations Grid does that put you in?
Don't think of yourself more highly than you should. Be reasonable when you think about yourself. Keep in mind the faith God has given to each of you. Romans 12:3 NIrV
2. Decide what mix of helping and enjoying you would like to have.
Ask yourself if you're satisfied with your mix of enjoying and helping your family. Are you good or does another quadrant appeal to you?
If you would prefer to be Doing Life Together and experiencing high enjoyment and high helping, know that it isn't impossible. You can move toward family relationships that are fruitful and fulfilling. This is the message of hope for you today.
3. Choose to move in the right direction to balance enjoying and helping your family.
Carol Dweck in her famous book, Mindset, teaches us to have a growth mindset, rather than a fixed mindset. People with a growth mindset believe they can learn, grow, and improve. People with a fixed mindset believe they are stuck in their circumstances.
That means grandparents, too.
If we choose to be growth mindset grandparents, we believe we can build better relationships with our family and we take responsibility to learn and grow and move toward it.
It's time to make a plan for improving your relationships with your family by adjusting how you help and enjoy them.
4. Plan your next times enjoying and helping your family.
It can be a journey, and a simple start is best.
Helping
Ask your kids what they need right now; ask if there is something you could do to help them.
The Coronavirus may hinder you physically be near or helping them, but phone calls to the kids, or sending something in the mail may be an appropriate start.
They may need you to do what you can to help them with school this year.
Ask your daughter-in-law or son-in-law what can you do that would help them. They may not have an answer until they pick themselves up off the floor and close their open mouths, but eventually they'll come up with something meaningful and doable that you will feel great about handling.
They'll love you more for your support.
Enjoying
My husband's dad and step-mom took us to DisneyWorld twice when our kids were in elementary school. We live an hour from Disneyland, so we would never have justified the expense of an adventure at DisneyWorld. Those trips were unforgettable and opened up two decades of better friendship with them.
We can't spring for theme park vacations these days, but how about a few days at a quiet vacation rental near a creek? You'll have time to enjoy your family—and they will enjoy you.
If a vacation is something you would have to work up to, or needs to wait until we have a vaccine, how about quick phone calls.
Sometimes we hesitate to call because it seems like we're bothering them, but what about a brief, "Hi Ethan. I was just thinking about you and I prayed for you, and I just wanted to say hi. Tell me about your day."
Enjoying your kids and grandkids comes when we connect with them, when we appreciate each other, and when we have time together.
To recap how to balance enjoying and helping your kids and grandkids:
The two core motivations of grandparents are enjoying and helping. Grandparents are motivated to enjoy their family, and they are motivated to help their family.
You can see how enjoying and helping your family work together in the Core Motivations Grid for Grandparents.
There are four steps to move toward doing life together: assess where you stand, decide what you would like, choose to move in the right direction, and plan your next times enjoying and helping your family.
What's Next?
What is one thing you want to do this week to enjoy or to help your kids and grandkids?

This post contains affiliate links.