Do you wish there was something you could do to help your grandchild find more confidence? See how easy it is for you to build confidence through self-efficacy every time you're with your grandkids.
Have you heard the term "self-efficacy"? It means that you believe that you can do what you put your mind to. 
My parents used to say to me, "Lori Kathleen, you can do whatever you want to do."
For your grandchildren, it means they believe that they can learn their spelling words or make the team. 
For our 19month old Abigail, it means that she believes that when she says something that resembles "apbleslaush", the big people around her will give her that applesauce pouch.
If we believe we can, we have more confidence and a better self-image.
The Best Way to Help your Grandchild Find Confidence
How can we help our grandkids have self-efficacy and the confidence that goes with it?
Practice. Improvement. Mastery.
It's the real thing that's happening during the soccer season and the piano lessons. Sportsmanship and skill development are good, too, but nurturing the belief in their hearts that they can work hard and accomplish something good is the most abiding lesson.
Our grandchildren need to see themselves as capable.
Beloved grandparent, you can bolster their self-efficacy in several ways:
Speak affirmation over them. Point out when they worked on something and got it done or got better at it. "I saw you taking your time on that picture or working hard on that project for school. Well done."
Teach them how to do things like change a tire or plant a garden.
Support the activities they're involved in by being interested in it, helping pay for it, or giving rides if you live nearby.
Self-confidence and Confidence in God
As godly grandparents, we want the self-confidence in our grandchildren to be rooted in their confidence in God.
That comes from bringing God in to the learning, the practice, and the accomplishment. 
When we're affirming their progress or success, we bring Jesus into the conversation.
"Thank you, God, for helping Adam learn to ride his bike without crashing when he stops."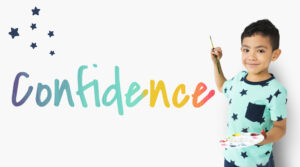 We model it by saying things like "I'm still learning how to (fill in the blank) and I'm asking Jesus to help me because he always does."
It's bringing Bible verses like Phiippians 4:13 into the conversation, "I can do all this by the power of Christ. He gives me strength." NIrV
Confidence comes from knowing that they are made in the image of God.
Self-Efficacy in the Age of Coronavirus
These coronavirus days are a perfect opportunity to build self-efficacy in your grandchildren.
There are things that aren't fun, but they can do it. They can do school at home. They can stay connected with family and friends online. They can find interesting things to do without always going places. They can wear masks without it being a big deal.
They can persevere through this trial and be better for having lived through it.
That's the best kind of self-efficacy for our grandkids. You can do it. Jesus will help you.
To recap, the best way to help your grandchild find confidence is to:
Improve their self-efficacy by helping them see themselves as capable.
Practice, improvement, and mastery teaches them that they can work hard and accomplish something good.
The pandemic can teach them that they can live through a trial and be better for it.
Their confidence is rooted in the truth that they are made in the image of God.
What's Next? 
What can you say or do this week:
t

o help your grandkids get better at something

to believe they can do whatever they work at

or to see that Jesus will be with them in whatever they try?
Read 2 Timothy 2 and pray what sticks out to you for your grandkids.